Deposit bonus
The bonus is offered after direct deposit to an account and agreement with the conditions of participation in the promotion.
The bonus can't be charged in the presence of an active bonus.
The bonus can be played and cannot be withdrawn.
The amount of the bonus is not removed from the hall balance - it is a gift from our system.
Deposit bonus settings are regulated in the control panel by two parameters - Deposit Bonus and Minimum deposit for the bonus. The
Deposit bonus takes 2 values: 0 (off) or 25 percents.
To activate it, a player must make a deposit not less than «Minimum deposit for the bonus» value. The bonus amount is immediately credited to the player's balance and can be played. Player cannot withdraw money from the bonus. Money can only be lost.


Example
A player made a deposit to his account in the amount of 100, confirmed his participation in the promotion and got additional 25 as a bonus
Available for withdrawal: 100
Total: 125

Option 1
A player won 1000
Balance on his account - 1125
Available for withdrawal: - 1100

Option 2
A player lost 99
Balance on his account 26
Available for withdrawal: 1
25 is consumed

Cashback bonus
Dear players, the process of adding bonuses of your deposit has changed in our games. Unlike the system that worked before (when reaching the zero balance bonuses automatically passed into credits), now the bonus is credited after the drawing in the new game only - the player is invited to play the bonus game, where he can get from 4% to 50% from his initial deposit.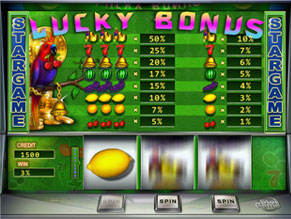 We hope that this will add an intrigue to the game and will make it more exciting and unpredictable. Regards, the

development team.